"Find Out Now Why BeeKonnected Is Quickly Becoming The Ultimate Social Business Platform For Influencers, Entrepreneurs, Zoom Users, Coaches, Speakers & Authors." - Tonya Hoffman
Why Choose BeeKonnected Over Zoom
In today's digital age, webinars and live presentations have become crucial tools for businesses and professionals to connect with their audience and grow their reach. However, not all platforms are created equal when it comes to maximising monetisation opportunities.
Enter BeeKonnected, a platform that offers a plethora of features designed to help you persuade your participants to buy faster and easier than ever before.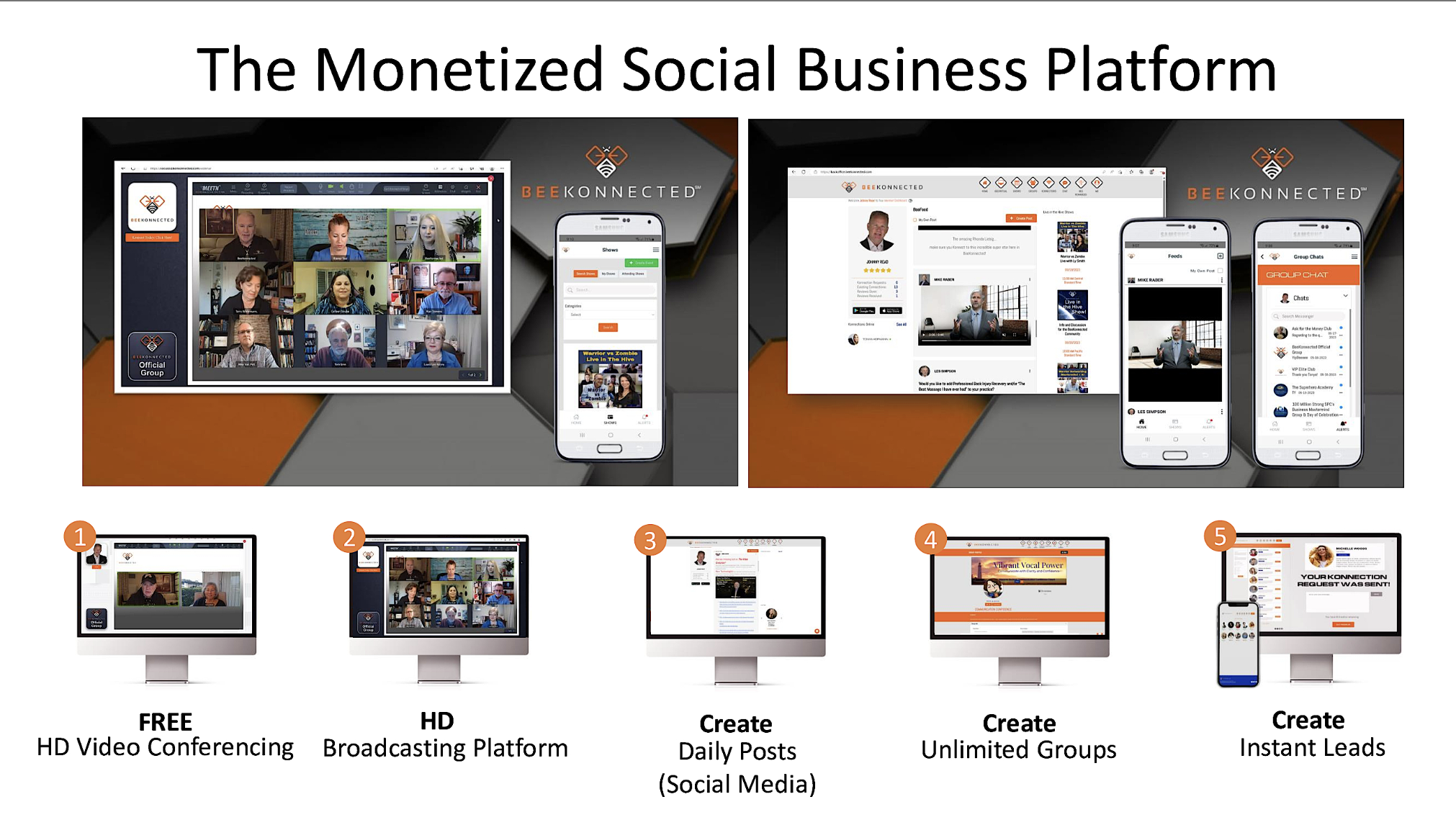 1. Multiple Ways to Persuade Your Participants to Buy Faster
BeeKonnected distinguishes itself with its seamless and transparent approach to displaying a "Call-To-Action" (CTA) for offers during live presentations. Unlike the traditional method of posting links in the chat, BeeKonnected's CTA function provides multiple options that are more comfortable and authentic, making it an ideal choice for monetizing webinars and live events. This feature alone sets BeeKonnected apart from Zoom, which can't offer the same level of convenience.
2. Video Sharing with One-Click Simplicity
Sharing content during your presentations is made faster, better, and easier with BeeKonnected. Whether it's videos, PowerPoint presentations, or testimonials, BeeKonnected allows you to upload and share with a single click. This feature is a game-changer, especially for users who aren't tech-savvy, setting BeeKonnected apart from Zoom once again.
3. Stream Simultaneously to Multiple Social Media Platforms
BeeKonnected takes your reach to the next level by granting you the ability to live stream to multiple social media platforms simultaneously. With a one-click "Start-Streaming" button, you can maximize visibility and reach more potential clients without incurring additional costs. Zoom simply can't compete in this department.
4. Create Organic Leads in Minutes
Creating organic leads has never been easier. BeeKonnected allows you to upload and post your videos and images, making it effortless to reach BeeKonnected's global membership covering over 100 countries. This unique feature simplifies the process of creating organic leads, making it an excellent choice for users looking for a seamless experience.
5. Create Groups Seamlessly With 100% Efficiency
BeeKonnected permits Platinum Level members to create both public and private groups. Leveraging BeeKonnected's technology, you can connect with your entire audience 100% of the time, ensuring you never miss an opportunity to engage with all your followers.
Monetisation Advantages That Zoom Can't Provide
In addition to the features mentioned above, BeeKonnected offers several monetization advantages that Zoom simply can't match:
Custom Web Page Popper: Pop-up web pages during your presentation to keep participants engaged with your "Call-To-Action."

Custom "Exit" Page: Re-engage early leavers with a custom message that can lead to increased profits.

Custom "Featured" Button: Display any call-to-action button of your choice on your meeting toolbar for participants.

Custom "Call-To-Action" Pop-Up: Create custom pop-ups with headlines, subhead lines, photos, backgrounds, and call-to-actions with a single clickable button.

Recurring Affiliate Commissions: Automatically earn commissions for attendees who upgrade to premium memberships, without the need for promotion on social media or email marketing.
In conclusion, when it comes to monetising your webinars and live presentations and enhancing your overall experience, BeeKonnected emerges as the superior choice. With its user-friendly features and unique monetisation advantages, it outshines Zoom in numerous ways, ensuring you can influence your participants to buy faster and easier than ever before.
Make the switch to BeeKonnected and unlock a world of possibilities for your online presentations.
If you're ready to embark on your journey of transformation, I encourage you to register for tyour free account right here, Remember, every journey begins with a single step.